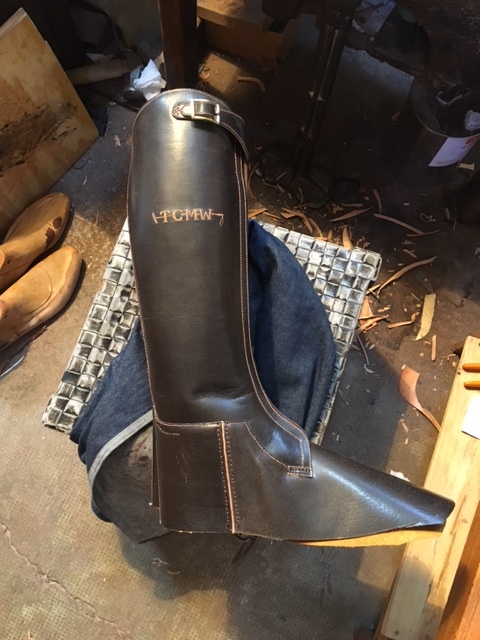 Many moons ago in 1892, two humble artisans and brothers Pedro and Giacomina Fagliano opened a leather shoes workshop in the province of Buenos Aires and made a name for themselves as skilled shoemakers, personally hand crafting every shoe for their local clientele of rural people. The successful business was then handed down to their sons Antonio, Santiago, Pedro and Jose, who continued to expand and grow their name and trade and soon their reputation spread across the Buenos Aires shopping scene, Argentina and the rest of the world.
Fast forward to the present day and Casa Fagliano is still going strong, led by Pedro's son Rodolfo and his sons Eduardo and Héctor. The close-knit family of artisans dedicate themselves to the making of exquisite, handmade, bespoke leather shoes. Their workshop, situated down a quiet little street in Hurlingham, next to the famous Hurlingham polo field (and just 40 minutes from the city) specialises in polo boots of all styles for the field, crafted from the best quality cordovan leather (the most sturdy and durable leather for the sport), from traditional zip-up styles to more modern lace-up and Texan-style boots. Each boot comes with its own set of wooden trees to help maintain their perfect form. They also hand make beautiful ready-to-wear ankle boots and leather shoes, all customised and made-to-measure using the finest cowhide leather in Argentina.
A visit to their unassuming workshop today, situated in the exact same spot as it was over four generations ago, is an experience itself and a step back in time. You're warmly welcomed personally by the Fagliano family who will proudly show you around their charming headquarters, where ancient manual tools, vintage sewing machines and traditional techniques that date back over a century are still employed over modern machinery, and black and white photos line the walls showing the extensive history of this unique family of artisan shoemakers. It is a one-of-a-kind shopping experience.
Once you've explored their workshop and seen where all the magic happens, a member of the Fagliano family will sit down with you and work out every detail of your bespoke leather Fagliano shoe, customising it to meet your precise style and comfort requirements. Special care is paid to every step of the production process and every single detail, from the selection and cutting of the leather to the precise measurements of the client's foot. Once your shoes have been made, your wooden shoe last will be carefully stored away on the shelves for future orders alongside the lasts of a roster of international clients that includes famous polo players, actors and royalty.
The Faglianos also handcraft leather belts to match your boots or shoes, leather knee pads and, since 2011, they've been making stunning leather watch straps for luxury watchmakers Jaeger Le-Coultre. They are produed using the same cordovan leather used in the production of their polo boots.
Casa Fagliano is a truly luxury shopping experience in Argentina. If you'd like to visit the workshop and order your own special pair of custom made leather shoes or boots, please click on contact us and we'll arrange a private shopping trip for you there and to other unique shopping gems in Buenos Aires.